Despite the industrialization of the area my favorite place to go was the Ruhr area in Germany. When I still lived in the Netherlands, it was a car journey of 1,5 hours from our house.
My husband Tom and I are not allowed to travel at the moment (in fact not even allowed to leave the village, unless for an emergency), but as soon as things are normal again we intend to visit our hometown. And we might go to the Ruhr area again.
The area became the "European Capital of Culture" in 2010. This meant a face lift for a region that had been a dirty, neglected orphan since the mines and steel industry slowly came to a halt.
There are a lot of interesting places nowadays, but my favorites are Insel Hombroich and Zollverein Essen.
An island in the river Erft
To be at Insel Hombroich is incredible. I have traveled and seen a lot, yet I don't know of anything I can compare it with. It is a swamp on an island (Insel is German for island) that in the old times had no other function than to deliver willow branches.
A developer gave an architect the assignment to design several buildings. He did an amazing job. There are 15 buildings on the terrain now. Almost all are earth-colored brick on the outside and white on the inside. Some have a function as a museum, a concert hall or a restaurant.
Others are completely empty, just standing on their own, being beautiful. I have visited this place at least 10 times and half the time there were people standing in these empty buildings humming or chanting. Truly amazing!
Compare it to children that can't help themselves if they enter a tunnel, they just have to scream. Being in these empty buildings with their wonderful acoustics you cannot help but do something with your voice or clap your hands.
It is a Museum. Actually, several little museums.
The owner of the swamp had a large art collection that is exhibited in several of the buildings. His view is that you do not have to boast about the big names or the knowledge you possess once you see whose work it is. So there are no cards with names and information on the walls.
That's an interesting approach. I like that. What I don't like is that he pushes this idea of 'art is beautiful in itself' too far. There is no climate control in the buildings. Of some the doors are always open, so the humidity and the drought have free rein. Making the Rembrandt and Degas drawings look more crumbled each year. That hurts my artistic soul.
The collector had a very broad interest
There are 17th century drawings, 20th century paintings and statues, East-Asian art, Aboriginal art and much more. The little buildings in a way organize this variety, because they all have their own focus.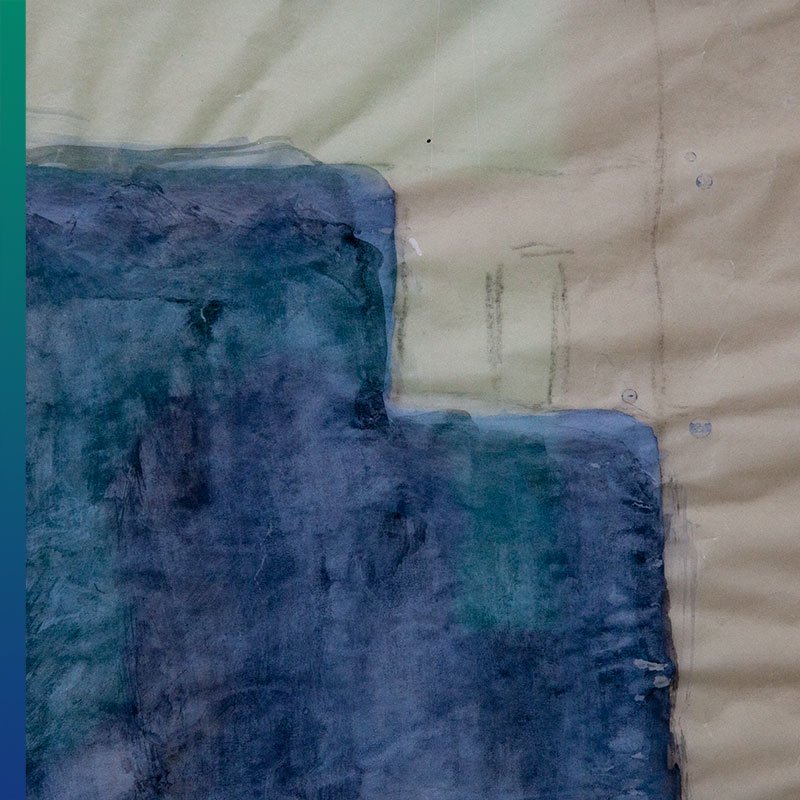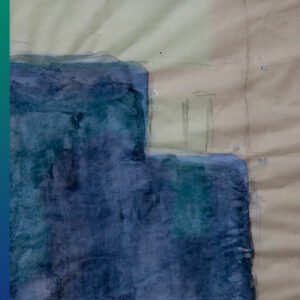 One building only has 5 big Buddha statues. Another building has just drawings on the wall. The large buildings have different periods and cultures in the collection.
Outdoor Art
Walking around you fall from one surprise to another. One time you run into a tree that is at least 300 years old. The next time you encounter a 20th century statue or a 3d object.
It's not just objects that are placed outside, but there is also Land Art to admire. Land Art means that nature is formed into art. For instance, by putting trees in a pattern or by placing them diagonally together so that the branches later form the cover into a wigwam.
At times artists-in-residence lived here and left their mark, either outside or in the museum buildings. We met Anatole Herzfeld a couple of times. Such a sweet man, who loved to talk about his art work, although I was not quite in agreement with his ideas about the Russians. 🙂
You can hike here for hours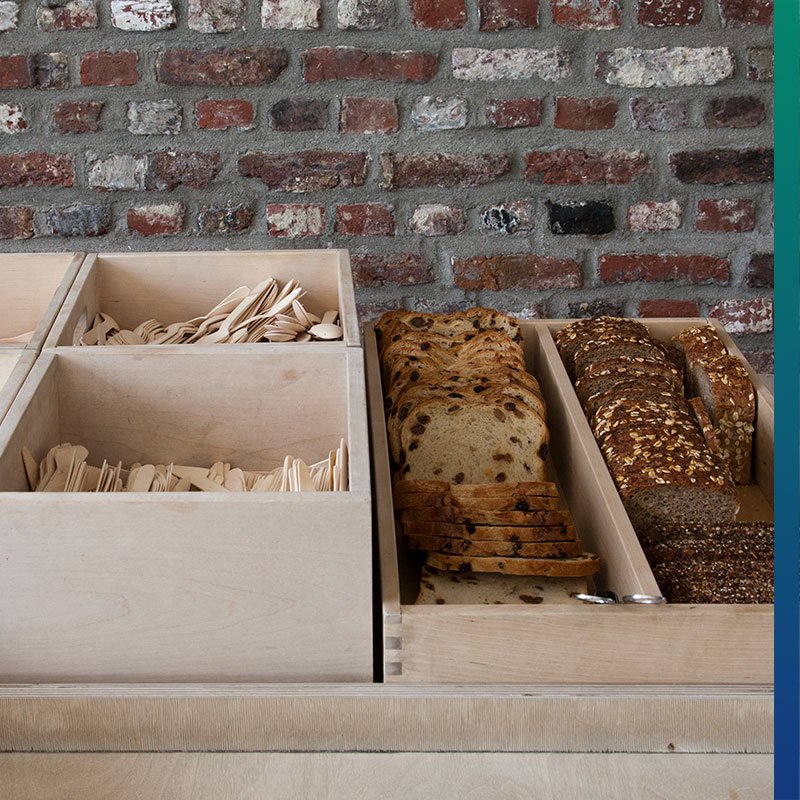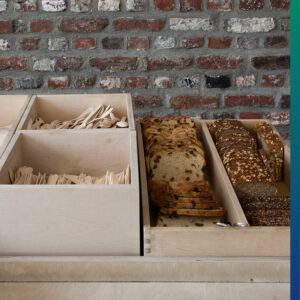 Even if you are not very much into art the place is worthwhile visiting. The surroundings are beautiful. Lots of water (duh, it's a swamp), vegetation that's not imported but belongs there from ancient times, bridges, hiking paths.
Exactly in the middle is the restaurant where you can pause at any time and take anything you want off the tables. The entrance fee is pretty high (15€ on weekdays, 20€ on weekends – 2020), but it includes unlimited use of everything that's offered in the restaurant.
It looks old-fashioned, with strange things that you don't ordinarily eat at home. It's great. (Well, as you have guessed by now, I am a true fan; I think everything is great in that place!). Coffee, tea, bread, a small lunch, whatever you want is on the tables.
The neighbors are interesting as well
You can visit the Langen Foundation on a 30 minutes walk from Insel Hombroich. A modern museum with its exhibition space mainly underground.
An intriguing building. From the outside you can hardly see it's a museum, because all the art is in the inner rooms.
The only indication is the big red LOVE in the pond.
The focus of the collection – a private collection of the couple Viktor and Marianne Langen – is on 20th century art.
An industrial monument in Essen
My father was a passionate metal craftsman, which explains a lot of my own interest in industry and technique. Occasionally I was even allowed to accompany him to the factory where he worked and I could see the machines in their full splendor.
I didn't take up a technical profession but became an artist instead. But still I get very excited when I see machines, this time from a visual perspective, because they are great to photograph.
The Zollverein Coal Mine Industrial Complex is located in Essen and on UNESCO's list of World Heritage Sites. Apart from being a beautiful industrial monument, it is also a cultural hot spot.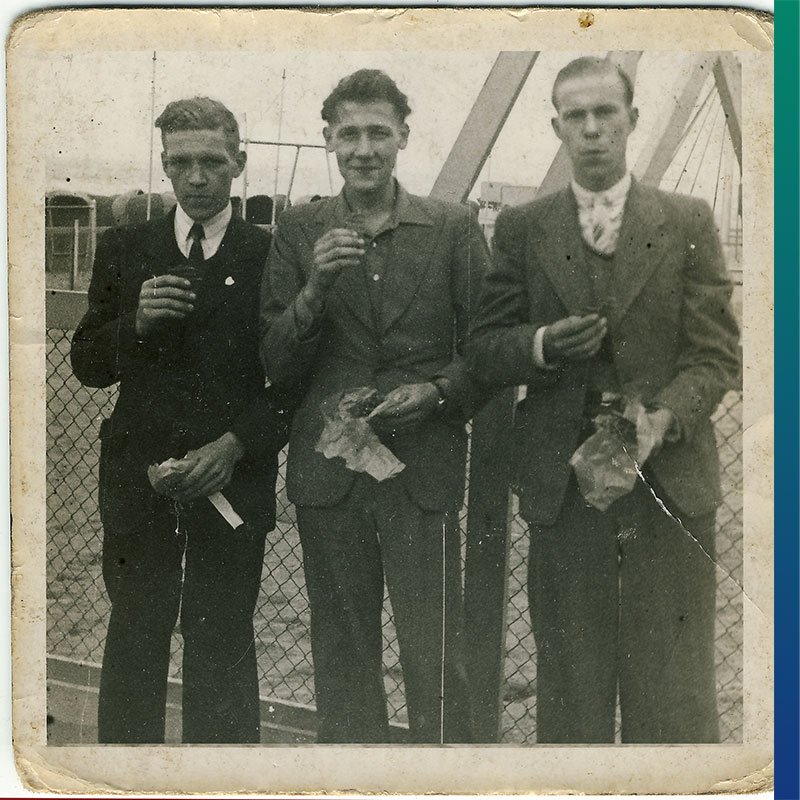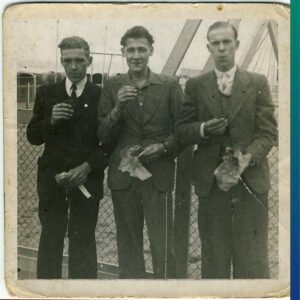 As a 20-year old my father was forced to work in Germany during the war. It was called the "Arbeitseinsatz". He never wanted to tell me stories about those days. After he passed away I found this photograph, taken in 1942 or 1943, with text on the back, indicating that he was in a camp only 4 miles from Zollverein Essen.
To me it's really strange to discover more about that time of his life now that he is dead, then ever before. He didn't talk to me about his war time, but a friend of mine did get an explanation about his technical character: "I couldn't sabotage those people. It hurt me so much to break something that was well-made. I just loved seeing machinery function the way it should".
I tried to gather more information about that period on the Internet and now I can understand he didn't want to talk about it. The few stories I found were awful to read. But I also remember the one thing my father did tell me: "I didn't like that period, but I learned my craftsmanship then and there".
Atmosphere varying from season to season
Like Insel Hombroich Tom and I have visited Zollverein several times, in all the different seasons. Interestingly, even being in an industrial area, one still gets a feel for the different times of year. The light is diverse, the growth – little as it is – is varied and the whole atmosphere is distinct in the several seasons.
As you might know from some other articles I wrote, I like it most if I can combine cultural activities with hiking and nature activities. I can assure you: hiking is one thing you can do at Zollverein. The plant is big and it takes you at least 1,5 hours if you walk all around the border.
Do you like factories? Or do you think they are visual pollution?
There are still many buildings that need to be restored
One reason for us to want to revisit Zollverein again is to see how the restoration process is going. We saw it develop step by step in the time when we regularly visited. It's what they call a cultural hot spot.
Ateliers, exhibition buildings, even a dance studio, are housed in the various former factories. In winter time there is an ice rink. It seems there is a swimming pool now as well. Artists have set up small shops where people can buy posters or utensils in limited editions.
It's an ongoing project of restoring and refurbishing and it's done with great care. Parts of the buildings are restored in their old grandeur and tour guides will show you around and tell about the history.
For me the highlight is the Red Dot Design Museum, situated in one of the old factories.
For the thirsty or hungry visitor several cafes and a fancy restaurant can be found. On the premises is a little shop where you can rent bikes. This way you can cover a bigger area to explore. In the neighborhood are old factories that have been turned into hotels and museums about the history of the region.
Take a tour
For an overview of the area you can drive the Route: Industriekultur. Nearly 50 places found their spot on that route, giving a cross-section of industry and buildings in the region.
In short: I can really recommend a visit, there is a lot to be seen over there.
Have you ever visited the Ruhr area? Tell me what you think of it in the comment box.