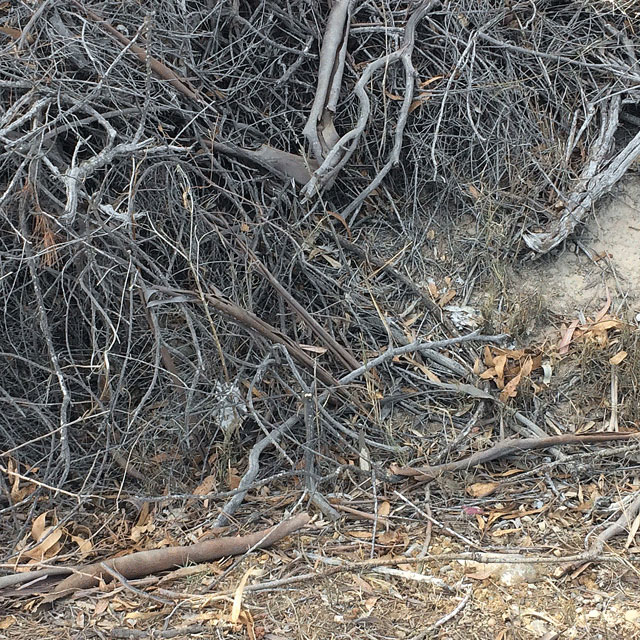 One of our regular walks is from the house through the surrounding hills to the via verde. The via verde is a cycle path from Mazarrón to Totana and Cartagena. When we arrive at the via verde, we can either go to the left in the direction of the urbanization Country Club or to the right in the direction of Mazarrón.
Today we went to the right because to the left is a pigsty and there are too many flies. We had the wind right in our faces. First, we passed the factory where wooden pallets are produced. Only a hundred meters from there is a house which appears to be abandoned. The garden isn't kept, there is a lot of rubbish around the house and we haven't noticed anybody yet.
All of a sudden we heard a loud hissing sound to our right on the ground, through the shrubbery, just along the small wall that surrounds the abandoned house. The wall is about 30 centimeters high and made of concrete. In no time just a couple of meters to our right, a black snake, about a meter long and as thick as the tire of a mountain bike, speeded through the thicket, crossed the small wall into the garden, and was gone. We were both startled but continued our walk.
Another hundred meters beyond is another small house which is as abandoned. To our surprise some 25 meters ahead of us on the ground in the middle of the via verde we saw another big black snake. As soon as we made a few steps forward this snake disappeared in the shrubbery with as much speed as its family member we saw just a few seconds before. This was enough wildlife for a day.
One lesson we learned though, is never to put your arms or legs in a thicket as you can see in the picture. You might never know what's inside. Did you ever encounter any snakes and knew what to do?
^tvo