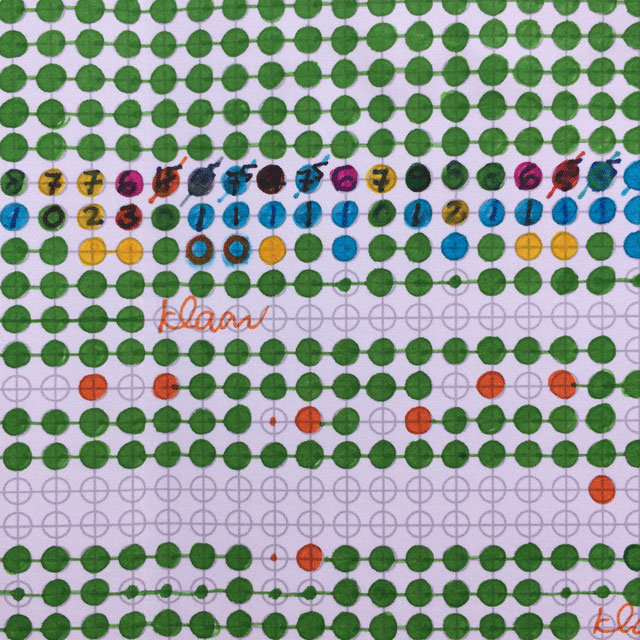 One of the things I keep track of in my journal are my daily goals.
We all have goals or tasks, or whatever you want to call them. Some years ago I started with a system of getting my goals done. It is easier to complete a goal or make something to a daily practice if I keep track of it.
At first, I made a list with the aid of these 4 squares:
| New (once per month) | Do more of |
| --- | --- |
| | |
| Do less of | Stop doing |
| | |
Then I made a choice of which items were most important to me. One from each column.
Every night I wrote a note of which goal succeeded and which one needed improvement.
And every month I evaluated whether items have to get off the list, which to keep, and which new ones I will add.
All this evolved into a list of things I nowadays do daily. And I developed a very simple system to keep on track: every item has a chain of empty circles behind it with the day of the month at the top. If I completed the item I make the circle green. If I failed the next circle is made orange, so in the end, it's very clear which goals are easy-peasy to me and which ones are not yet.
Some goals are not "done or not done", but have a complicated meaning. For those, I use several colors.
It looks like a lot of work maybe. You can trust me, it's not. And coloring at the end of the day is a soothing activity.
Besides, it's really rewarding to see that goal setting helps. This way I made it a habit to daily:
exercise half an hour
walk 3 to 6 km
meditate 10 minutes mornings and evenings
water my plants
practice Spanish
write
and much more
I am proud of myself 🙂
^hm