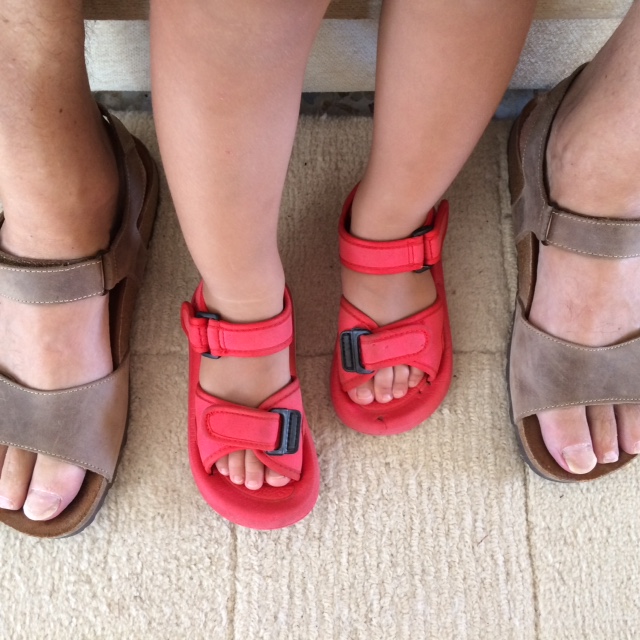 Outside in the shade, it's 35 degrees Celsius. Nobody is wearing socks and shoes except for my two nietos (grandchildren). The little one has these lovely red sandalias (sandals) which I refer to as escándalos (scandals).
So I tell him to put on his escándalos. It might be for this word joke, but he says 'no' (which is in English almost the same: 'No'). So I ask his father why a boy who's two years old wants to wear socks and shoes. His father says 'I don't know. I wish you lots of luck with his sandals, though.'
But I have some tricks up my sleeve. The little one should know by now, as well as his father. So I ask him where his sandals are. His father laughs. And the other little one, the five-year-old, comes running with his brothers' sandals.
To convince the youngest to wear his sandals, I show him mine. Which have a lot in common with his, the only difference being the color. I tell him that with the sunny weather as we have today, everybody wears sandals, and point out to mine. Although his father and older brother wear socks and shoes, his grandfathers' arguments are more convincing. He sits down and lets me put on his sandals.
Out of gratitude, I carry him on my shoulders to the restaurant where we had our goodbye dinner. This evening they left for their hometown Madrid.
^tvo