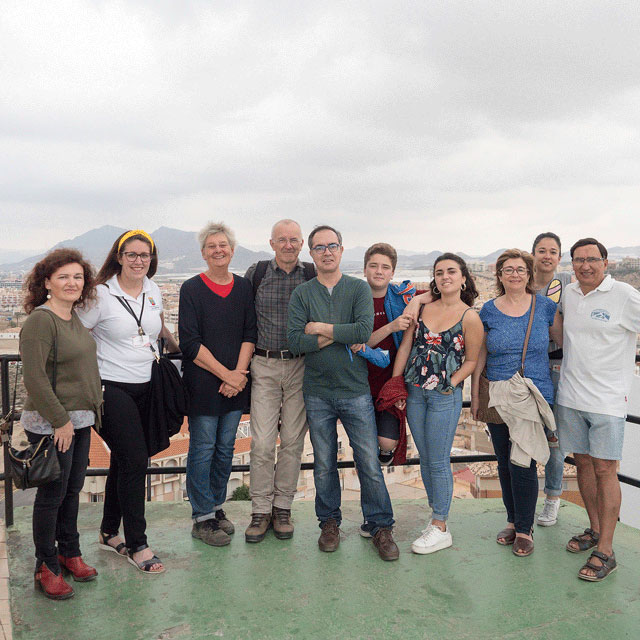 Today we enjoyed our second guided tour, organized by the Tourist Office of Mazarrón. Again the subject was ancient history – the Phoenicians and the Romans – but this time in Puerto de Mazarrón.
From our visit to the museum Arqva in Cartagena, we knew that the Phoenician boat that is displayed over there is found in Puerto de Mazarrón. And now we know that it was found because the Puerto Deportivo was due for expansion.
After the visit to the scale model of the ship, we walked past the remains of a Roman house. It's funny because we did our share of walks in Puerto de Mazarrón, but until now we never had seen this site. It's just the foundation of the house, but nevertheless, it gives a good impression of how wealthy the Roman family was that lived here.
Before ending the tour at the lighthouse and the statue of Sagrado Corazón de Jesus we visited the Museo Arqueológico y Factoría Romana de Salazones. Now, this was a surprise as well. From the outside, it doesn't look very impressive, but inside it turned out to be bigger than expected. Very interesting and as the other visited spots definitively worth revisiting again.
As you might remember our goal is not only to discover the cultural heritage of the area but also to work on our Spanish. That turns out to work quite well, although I do have the feeling I cheated a bit today by asking Paqui, our guide, for an English translation now and again. And it was really nice that the group joined in at times to explain a Spanish word or pronunciation to me, so I had a really fun day. Again 🙂
What did you do this – over here cloudy – Saturday? Tell us in the comment box.
^hm