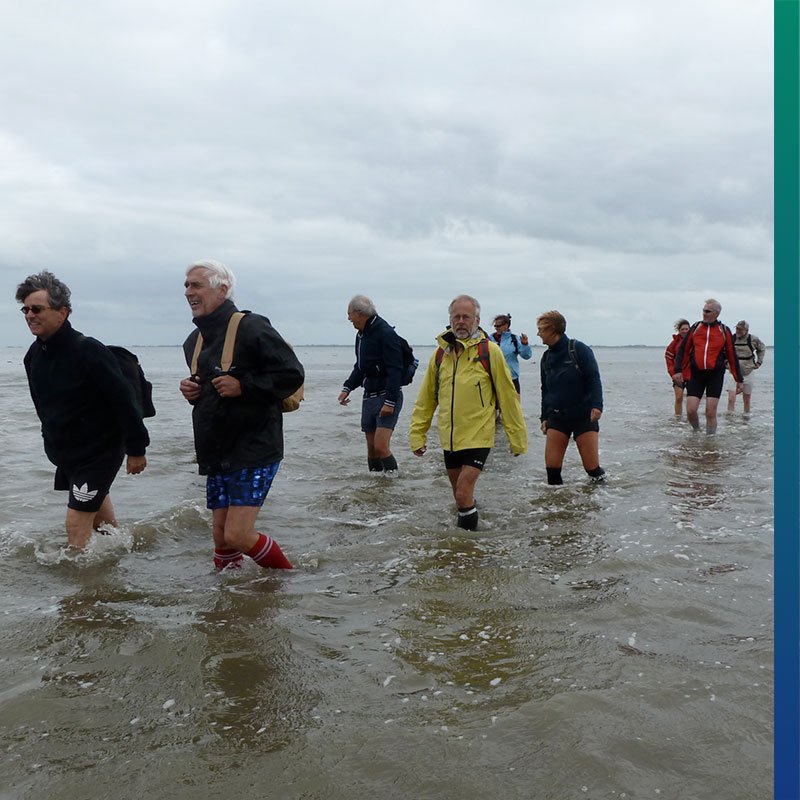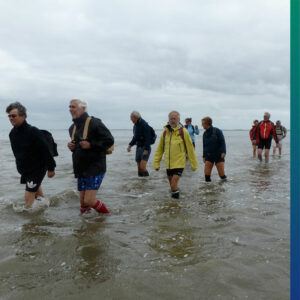 A unique area in the North of the Netherlands and Germany is the Wadden Sea. The Wadden Sea is an unusual type of nature and shines on the Unesco's World Heritage list.
The area is essential for a lot of birds, seals and aquatic plants and is very vulnerable. That became all too clear in 2019 when the ship MSC Zoë sank North of the Wadden Sea, the Netherlands, and a lot of plastic and consumer products ended up in the sea and on the islands.
The Wad Walk of 2019 (I explain what a Wad Walk is later on) was dedicated to cleaning up part of the sea shore of Wadden island Schiermonnikoog. But the effects of this environmental disaster are not clear yet.
An unexpected adventure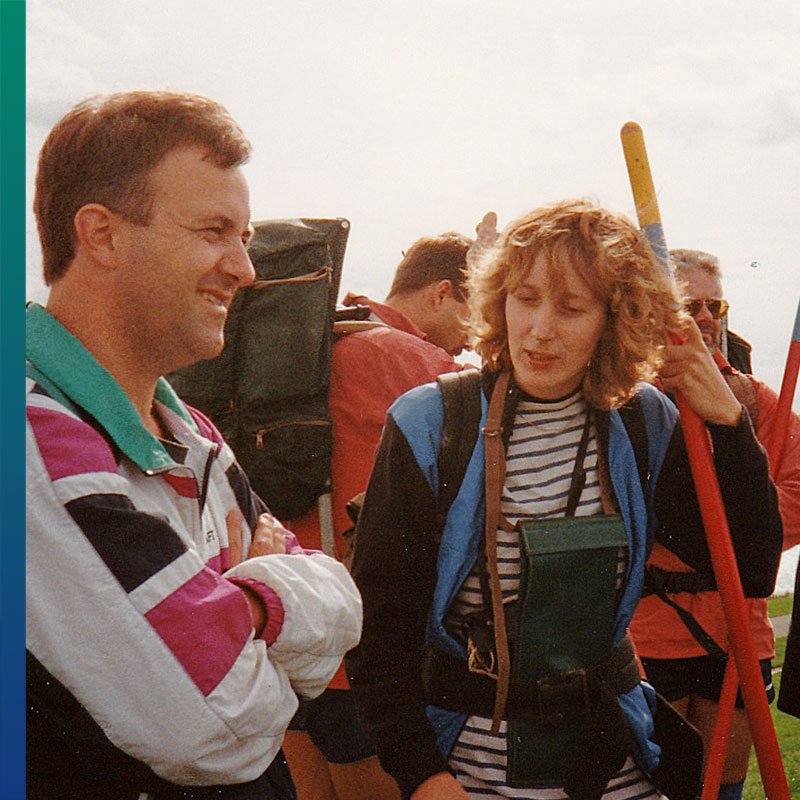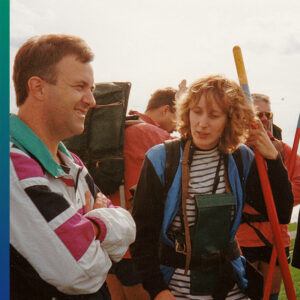 My 43rd birthday was nearly my last one. As I slowly sank into the Wadden Sea I saw in my mind a tombstone with twice the same day and month on it. Funny how the mind works at a time like that.
I wasn't the only one in trouble, our guide who had a 20-kilo backpack to attend to, had a hard time as well swimming against the waves. A friend rescued him. My husband rescued me, the doll.
This happened on my first Wad Walk and it didn't stop me from going back year after year to this beautiful part of the Netherlands.
Mudflat hiking, we call it the Wad Walk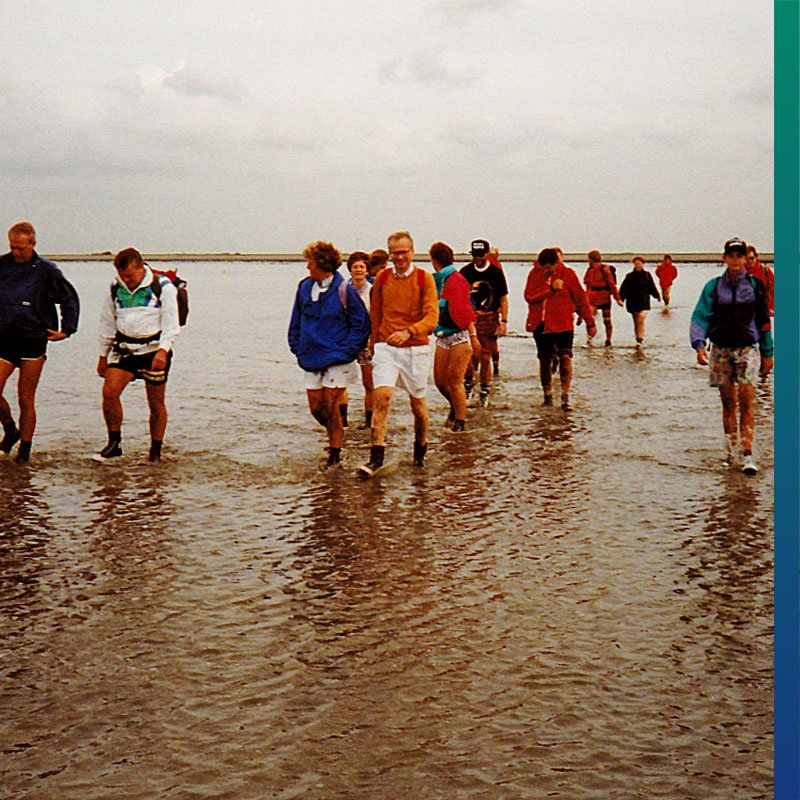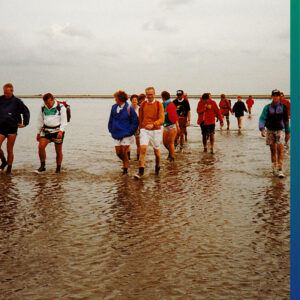 In 1996 one of our friends asked us to come along on a tour of mudflat hiking. We were going to walk from the coast of Groningen to Schiermonnikoog. And we really called it a Wad Walk, in English, although this is not the proper name, because of our friend's English wife.
Our group of 20 joined the regular commercial tour to Simonszand, a sandbank between the islands Schiermonnikoog and Rottumerplaat, from where we would go on with our own two guides.
At one point we would cross the fairway by boat. The rest of the walk was supposed to be a piece of cake.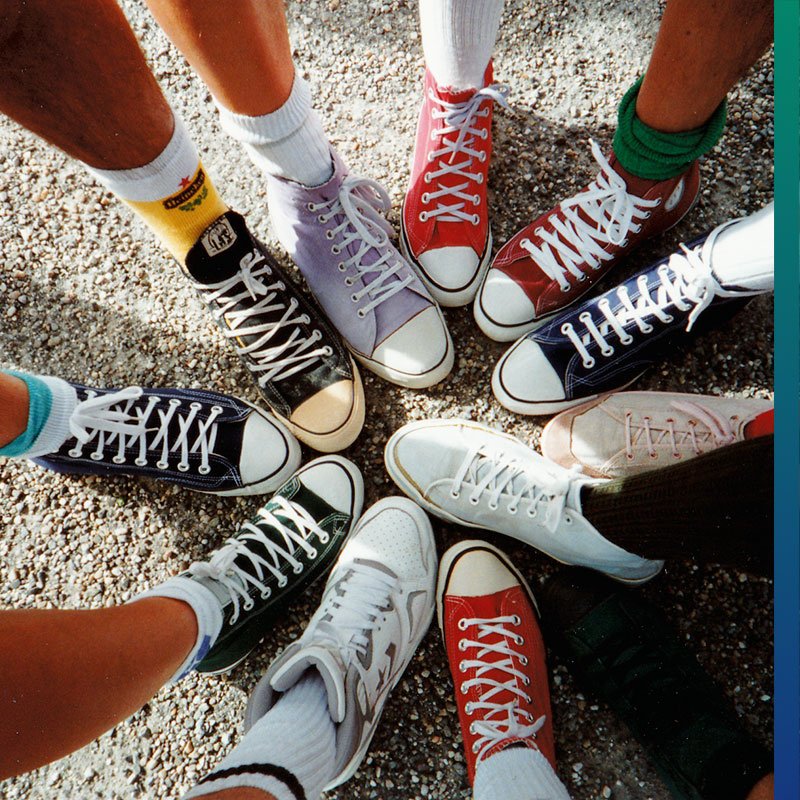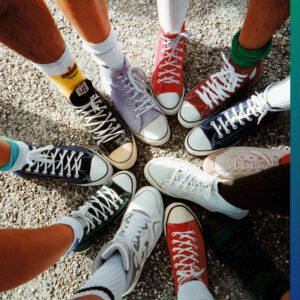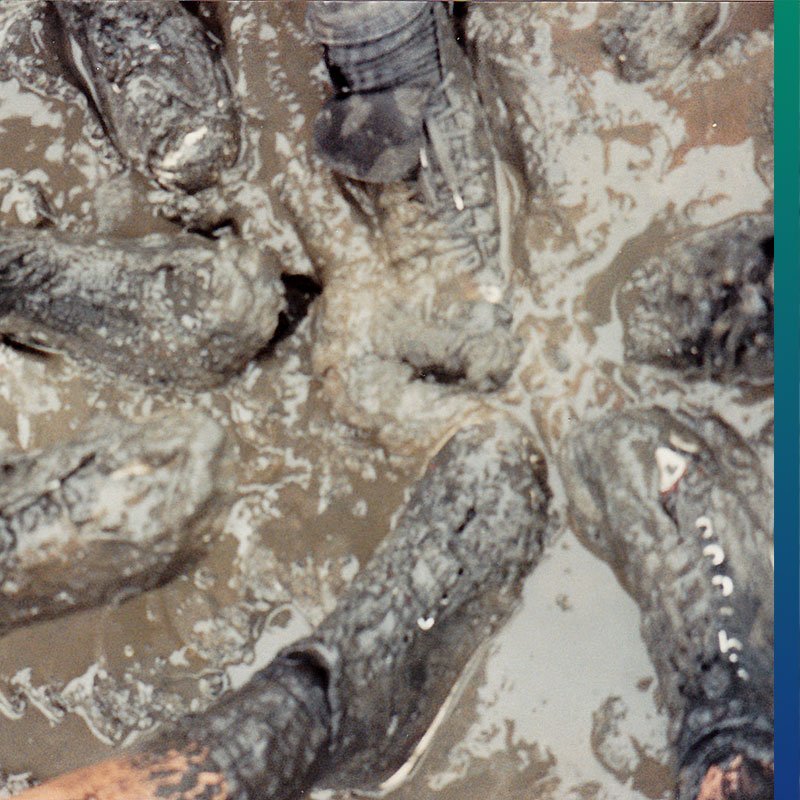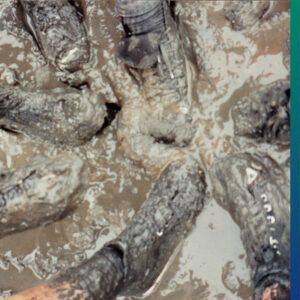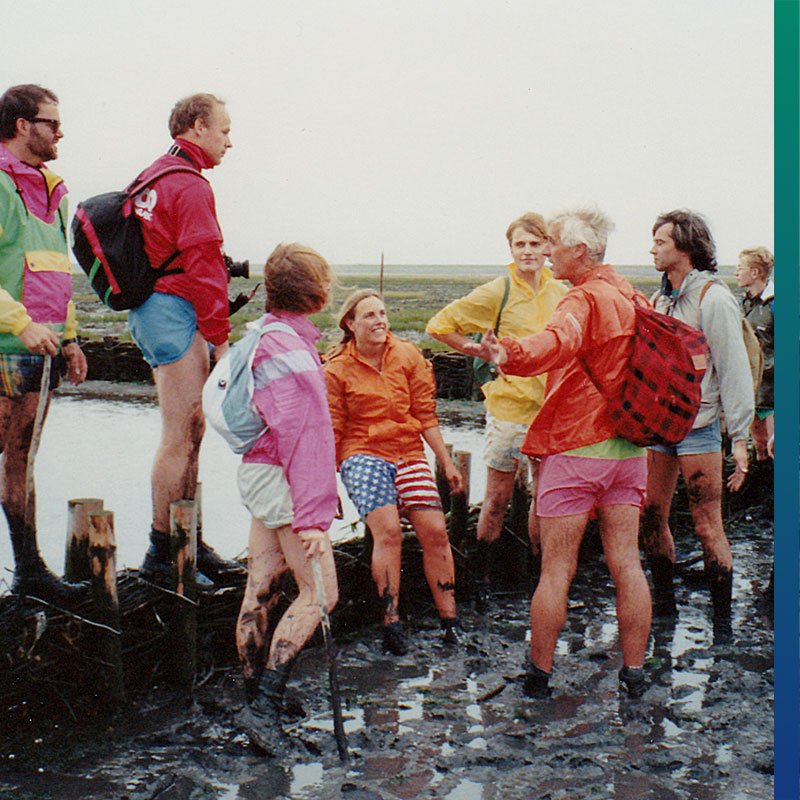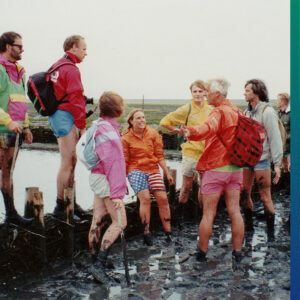 Nature's own will, you'd better be careful
Usually the purpose of Mudflat hiking is to keep your feet in touch with the sea bottom at all times. You might go chest deep through a gully but swimming is out of the question.
That weekend it was spring tide with a northwestern wind coming in. Two factors that pushed the water with great force from the North Sea into the Wadden Sea. On top of that we left late so the tide was against us.
After we were transferred by the boat and walked in the direction of the island, we suddenly encountered another deep gully. We didn't mind and wanted to swim to the other side, but the guide Mark was against it because of the regulations.
He tried time and again to feel how deep the gully was with his stick, making us lose several more precious minutes in which the water kept flowing in.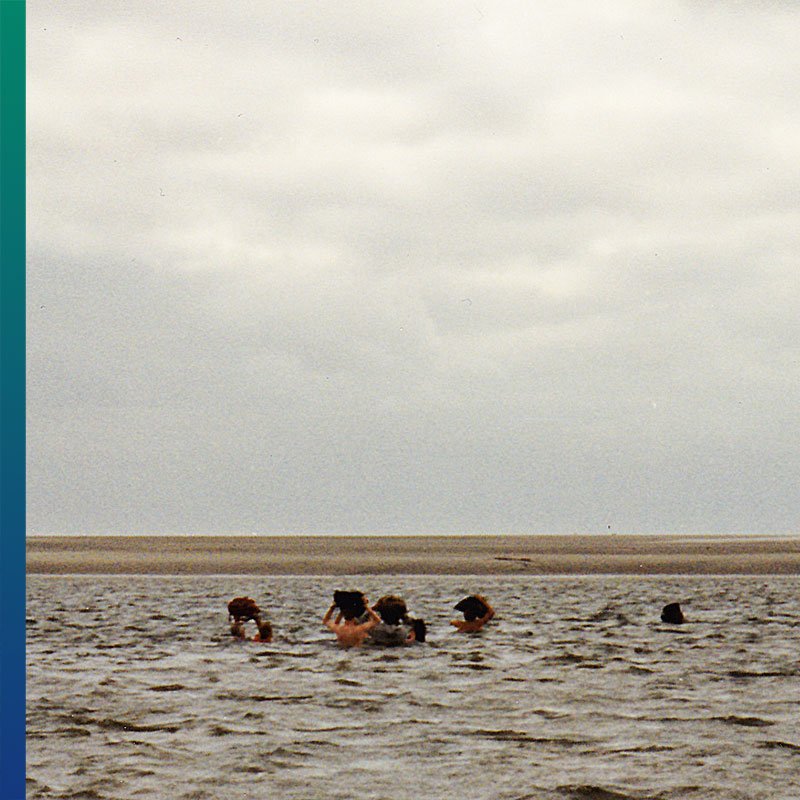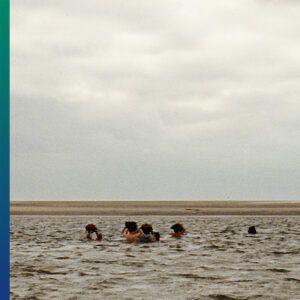 My belongings on my head
Eventually the guide had to give in and we were preparing to swim. Most of our belongings were in a plastic bag in the backpack and I was going to hold my sweater and my brand new camera on top of my head.
I am a good swimmer, but at one point I felt everything sliding from my head and I was really afraid my new camera was going under and would be lost. That's why I forgot how to swim and began to sink to the bottom.
Those were exhilarating minutes, but I survived!
How to behave on the Wad
Should you ever have the possibility of going on a Mudflat Hikingtour don't let this story prevent you from going. It is absolutely great and an amazing experience.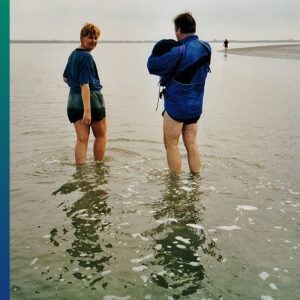 Walking on water, who doesn't want to do that?
You are not allowed on the Wad on your own, only accompanied by a certified guide. Tours are from April until October and individuals can participate. A group consists of a maximum of 150 participants.
The rules are simple:
Never go on the mudflat on your own;
Alcohol and mudflat hiking do not mix;
Always strictly adhere to the directions of the mudflat walking guides;
Pack valuables such as watches, wallets and cameras waterproof;
Do not leave waste in nature! Mudflat walking is a nature-friendly sport;
Participants must have a minimum heigth of 1,40 m;
Provide warm and windproof outer clothing;
Bring something to eat and drink with you during the mudflat walking tour;
On sunny wading days, coat your face and arms with water-resistant sunscreen;
Dogs cannot join the mudflats!
Can everyone do this?
It's not required that you are a top athlete, but you do need a certain amount of stamina. Most tours will be around 3 hours of walking with some rest included. Resting means 'not walking', there are no benches on the mudflat. 🙂
With the boat trips and the waiting you'll be on your feet for around 8 hours.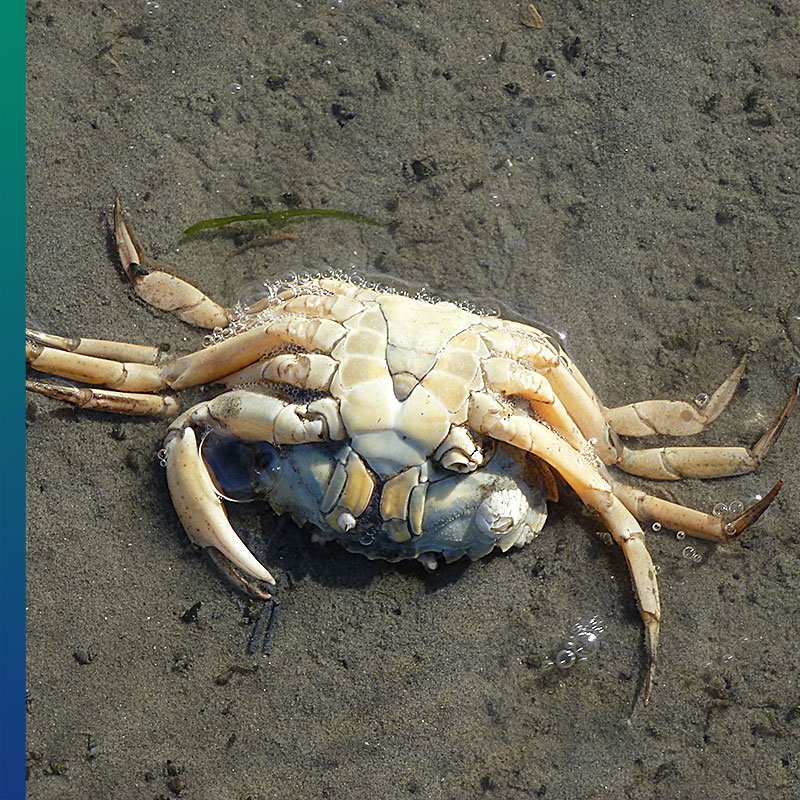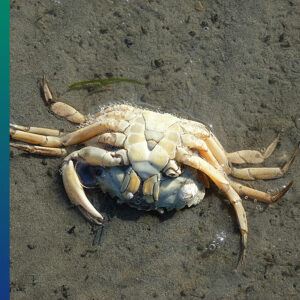 I have a couple of experience based tips for you:
Waterproof packing is best done with a garbage bag in your backpack;
Wear high basketball shoes that can be tied well enough around your ankles;
Wear a swimming suit instead of underwear;
Except in high summer, the outside temperature in the Netherlands can be cool. So on the mudflats in only your bathing suit is not recommended. Sweaters and jackets do not get wet (officially) and keep you nice and warm. For pants, I recommend wearing three-quarter tight quick-drying sports pants.
Occupants of the Wad
We didn't see any seals that first year. There had been a disease among the seal population and lots of them had died.
In Pieterburen is a seal crèche and thanks to the good care of those people the seals are back nowadays in large numbers.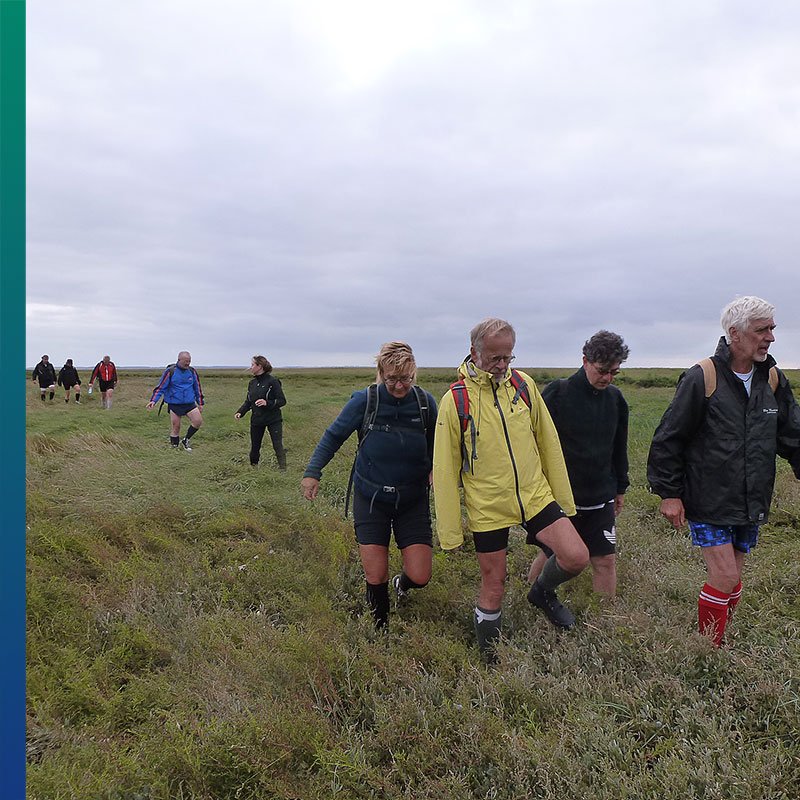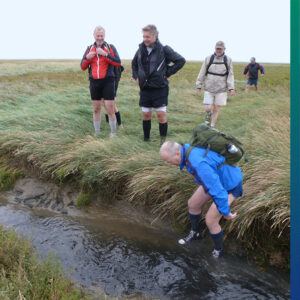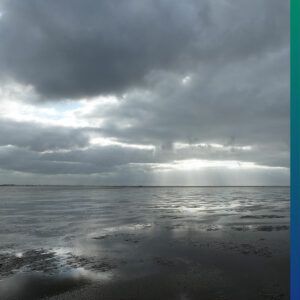 When Mark read my story he send me this: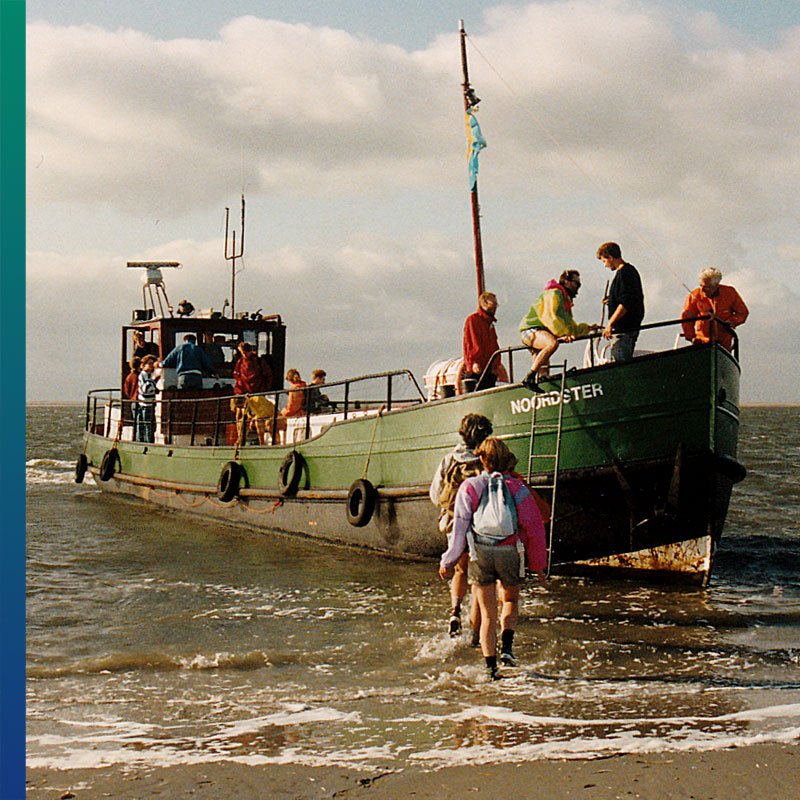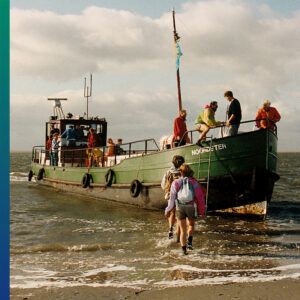 We walked to Simonszand and were on the west side of the eilanderbalg transferred by the Noordster. We were dropped on the eastern part of Schiermonnikoog, the Balg. 
NorthWest wind was Beaufort 6.
This meant that the Noordster was wobbling enormously. Skipper was the 16-year old son of the usual skipper. Our group walked westward on the Balg and after half an hour we came to a deep gully running through Schiermonnikoog.
Because of the NW-wind the water was heavily pushed up into that trench. My information from other guides was that you could easily walk through that canal. In hindsight you can conclude that information was not accurate, and it certainly was not accurate at that moment. My lesson was not to trust information that I hadn't explored myself first.
After a few attempts trying to find a way to walk to the other side we decided to swim. We had to get over that gully somehow. I was relieved everybody knew how to swim.

My backpack was on my stomach and I swam on my back to the other side. But the backpack was getting heavier and heavier soaking up water and pushed me underwater more and more. Someone in the group that made it to the other side came back to help me.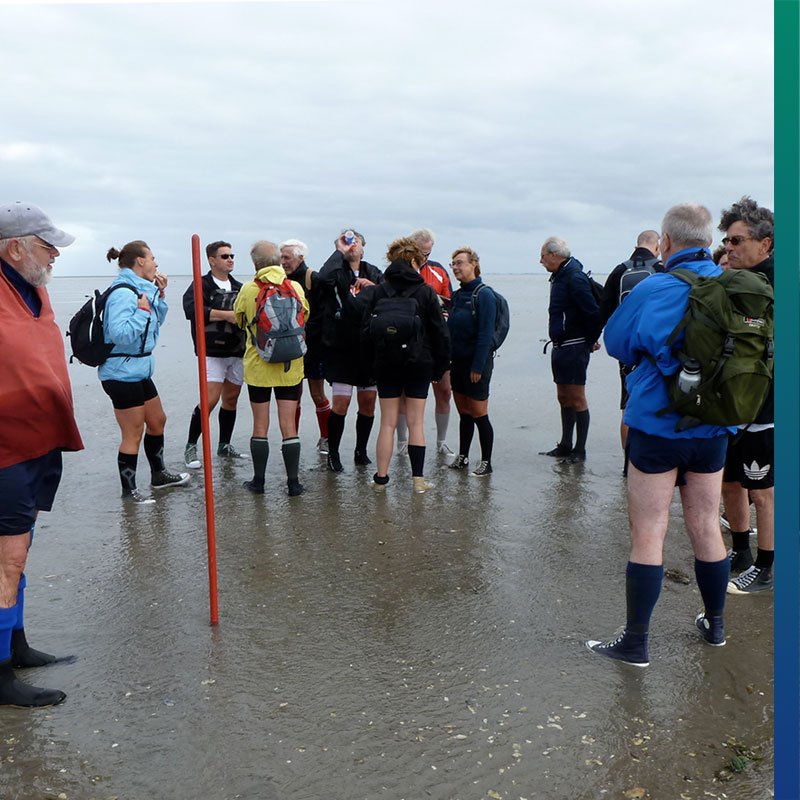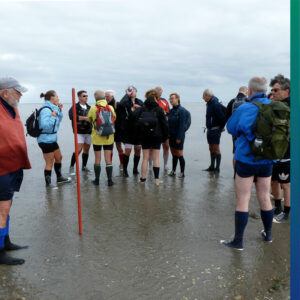 Eventually everyone arrived in the village Schiermonnikoog safely. It is still the talk of the town and called the 'mother of all trips'!
 What struck me immediately after the swimming was that some participants were ecstatic that I had planned it this way and that they really had to swim.
At the same time it had scared the shit out of me. 

I have been a guide for 48 years on the mudflats. And I've had three really anxious and life-threatening moments.

Today, nothing unexpected happens anymore, everything is so regulated. But if I am talking with the older guides, we all have stories like that. It has made us good guides. We have faced danger and we survived.
My addition to Mark's words
It is true that most of our friends were delighted we had to swim that year (that never happened again on any of the later tours we did).
But one was furious. As if everything went wrong especially to bully him. As soon as we got to the other bank, he stamped away and didn't want anything to do with us anymore. He walked alone to the island Schiermonnikoog. That night he even went to sleep somewhere else and left the next day with the earliest boat from Schiermonnikoog.
Oh well.
What do you think?
Would mudflat hiking be anything to your liking? Tell me in the comment box.